Virtual Breakfast Series—Estate Planning: Early Steering to Avoid Potholes
Virtual Breakfast Series—Estate Planning: Early Steering to Avoid Potholes
Thursday, March 28, 2024 (8:00 AM - 10:00 AM) (CDT)
Description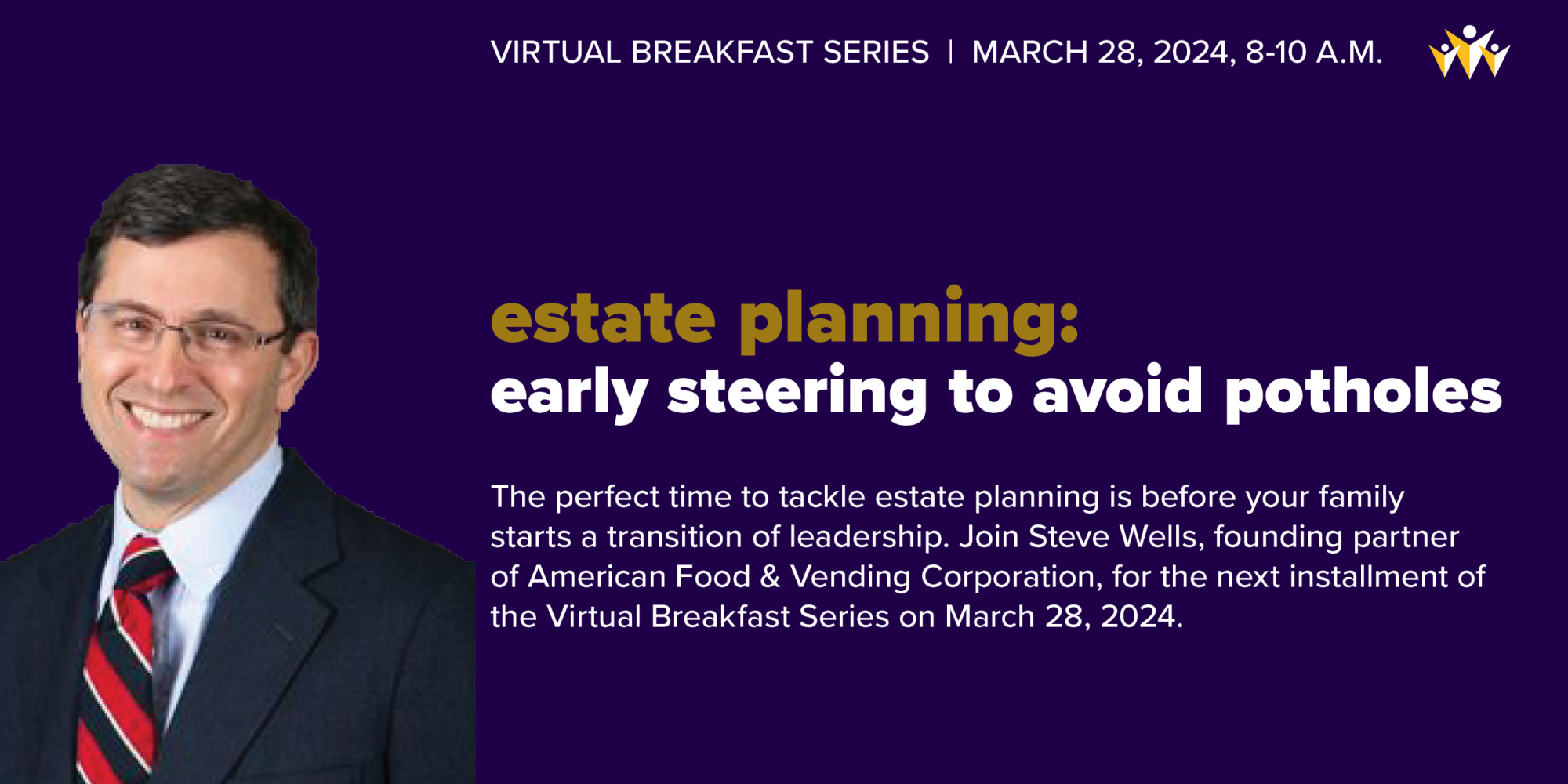 The perfect time to tackle estate planning is before your family starts a transition of leadership. Join Steve Wells, founding partner of American Food & Vending Corporation, for the next installment of the Virtual Breakfast Series on March 28, 2024: Estate Planning: Steering Early to Avoid Pot Holes Later.
DETAILS
Date: Thursday, March 28, 2024
Time: 8-10 AM
Location: Zoom
Format: Q&A with breakout rooms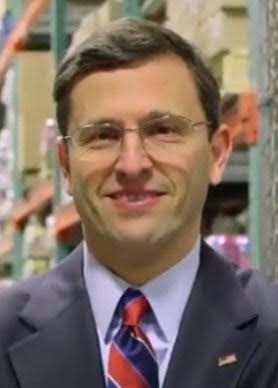 STEVE WELLS
Steve Wells is a founding partner with his brother Marty in American Food & Vending Corporation. American was founded 32 years ago in their hometown of Syracuse, New York. American operates in over fifty cities across twenty-six states serving tens of thousands of guests every day. American provides dining management services to business and industry, higher education, K-12 private & charter schools, stadiums, and museums. The company also provides refreshment services to these market segments through advanced micro markets, office coffee service, vending, pantry and water filtration and purification services. American is now one of the largest privately held on-site culinary and refreshment service providers in the United States.
Steve received his B.S. from Cornell University School of Hotel Administration, and Juris Doctor from Vanderbilt University School of Law. Upon graduation, Steve worked as a real estate attorney at Fulbright & Jaworski in Dallas, TX and then served as an Assistant Criminal District Attorney in Ft. Worth, TX primarily in jury trial litigation of first-degree violent felonies, including capital murder.
Steve is active in political affairs. He is currently the elected Treasurer of the New York State Republican Party, and Finance Chair of the Onondaga County Republican Committee. Steve has run for U.S. Congress in NY-22 and NY-24.
Steve is also involved in community, and alumni affairs. His service includes The American Israel Public Affairs Committee (National Council, Congressional Group Leader), The Century Club of Syracuse, Past President and Board of Governors, Safe Haven Holocaust Refugee Shelter Museum - Current Board Member, Vanderbilt University Law School, Admissions Interview Program.
Steve is passionate about issues related to family businesses, including Family Enterprise, USA – Current Board Member, Cornell University Smith Family Business Center – Leadership Forum, and Lifetime Member of Young Presidents Organization, including member of YPO Family Business Forum.
He is married to Pamela, Cornell Ag. '92, founder of a video production company, Small Screen Productions, L.L.C. They reside in Cazenovia, NY and have two children, Jack a sophomore at American University in Washington D.C., and Sam a six-former (senior) at The Hill School in Pottstown, PA.
Images
Online
Register for access to the Zoom details.

,

Thursday, March 28, 2024 (8:00 AM - 10:00 AM) (CDT)
Categories
Virtual Breakfast Series