Virtual Breakfast Series—Governance: The Foundation for Every Successful Family Business
Friday, March 31, 2023 (8:00 AM - 10:00 AM) (CDT)
Description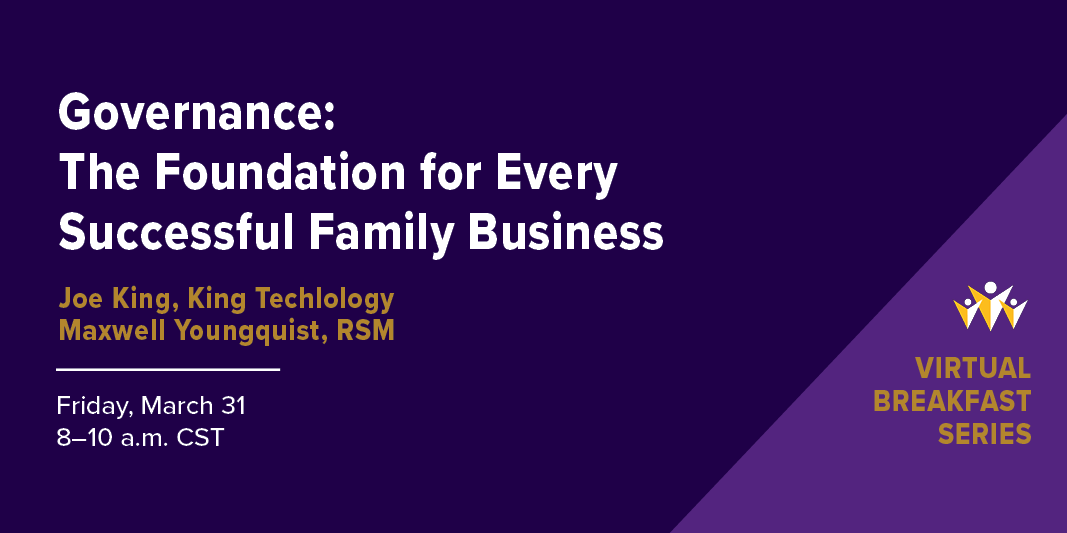 As your family business grows beyond the founder to siblings and other family members, complexity is inevitable. Communication becomes more complicated as you are interacting with more than just your spouse and kids. Moving from a founder's leadership to something that becomes shared across multiple owners and households can get, well, messy. Enter: Family governance! Governance involves the tools and policies that families put into place to help them manage the "family" side of the business. Including advisory boards, family councils and constitutions, there are many options to help your family handle—and hopefully avoid—those "Jerry Springer moments."
In our fourth session of the 2022-23 Virtual Breakfast Series, we'll overview the most basic policies to more complex ones like family councils, constitutions and shareholder agreements. Plus, we're welcoming Joe King and Maxwell Youngquist to the virtual stage as panelists! Joe is the owner of King Technology, who founded the business in the pool and spa industry with his father. Maxwell is a senior manager at RSM, who works in RSM's family office services and has also worked for a family office in the past. He will share his unique experiences with different governance options and which ones might be a fit for your family business. Together, they will share the power of creating and sustaining a solid governance foundation—plus some personal insights along the way.
Download the program for more information about our speakers.
Images
Pricing
FREE with the UNI Family Business Center membership
Online
Register for access to the Zoom details.

,

Friday, March 31, 2023 (8:00 AM - 10:00 AM) (CDT)
Categories
Virtual Breakfast Series
Virtual Breakfast Series—Governance: The Foundation for Every Successful Family Business